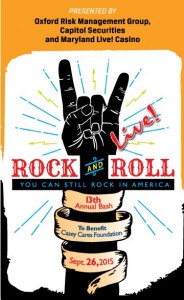 We hope that you will mark your calendar to attend the Bash, which is being held at the Maryland LIVE! Casino in Hanover, MD from 6:30 pm – Midnight on Saturday, September 26th.
The new Ram's Head Center Stage at the Maryland LIVE! Casino is an exciting venue for our event and is only a few minutes from BWI Airport. Please reach out to everyone you know so we can celebrate in style with a sold-out venue!
This year we are happy to announce that Night Ranger will be on hand to take us back to the sounds of the 80's. Of course, Mike DiMayo's band, High Voltage will be delivering an AC/DC Tribute performance that evening.
Call our office at 410-472-6490 to reserve tickets for this super event while they are still available.
We look forward to seeing you soon!