A different kind of rewards program that is actually worth getting excited about.
Who can qualify to earn Oxford Rewards?
Current Oxford captive owners are eligible to qualify to earn Oxford Rewards.
If you are an advisor or a prior Oxford captive owner, you may be eligible for other advisor or validator incentives. Please call us to learn more.
How do I refer a prospective client to Oxford to qualify for Oxford Rewards?
We need a little information to start. Please call (410) 472-6490 or send an email to our dedicated address for Oxford Rewards:

[email protected]

with the following information:

Your name and the name of your captive.
The best phone number and times of day to reach you.
The name, phone number, and email of the Prospect – the person whose business you think would benefit from the risk management approach of an Oxford captive.
It would be helpful if you would also please provide some background information about the Prospect's business and risk management needs.

We will review your submission, talk with you about your Prospect, and schedule a call or meeting where you will introduce your Prospect to Oxford to explore our captive options.
We'll take it from there!
How much can I earn for the Oxford Rewards?
For each Prospect you refer who forms an Oxford captive, Oxford will reduce your management fees. Call us to confirm your Reward and applicable fee reduction.
Your fee reduction will be repeated each year that your Referral maintains an active Oxford captive.
Oxford Rewards applies for each Oxford captive formed. If your Prospect forms more than one captive, then the Oxford Rewards will be multiplied by each Oxford captive formed.
Your fee reductions will be applied in the year following the formation and approval of the Prospect's captive. Your fee reductions will continue annually for each year after the Prospect maintains that Oxford captive and pays their fees.
What other rules apply to this program?
You have to be the first point of contact referring that Prospect to Oxford.
You have to help make an active introduction to Oxford, not just giving us a list of names and numbers for us to cold call.
If the Prospect is still in the early discovery and feasibility stages, you might be eligible to be a validator. Call us to find out more about that option.
Oxford reserves the right to change this program at any time and in Oxford's sole discretion.
You must comply with all applicable laws, including, but not limited to, all laws, regulations, orders, or other legal authority governing you personally, or your business. Neither this website nor any other marketing materials associated with Oxford Rewards constitute a contract or guarantee. Oxford Rewards shall not be deemed or construed as amending or altering the terms or conditions to your current captive structure and related contracts and agreements. Oxford Rewards is governed by the laws of the State of Delaware.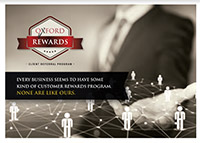 Download