Our advisors bring their unique industry expertise to the Oxford process.
In a collaborative manner, the Oxford team works with a variety of trusted advisors across the country to bring the advantages of strategic risk management solutions to their most successful clients.
The independent advisors we partner with are typically financial planners, CPAs, attorneys, investment advisors and property and casualty agents. As experts in their respective fields, they rely on Oxford to educate their clients on the world-class solutions available through our comprehensive approach to risk management.
Our advisors embrace the opportunity to bring their unique industry expertise to the process. We understand the importance of collaboration and recognize the critical roles each of our partners will play in the design, implementation and ongoing management of the client's private insurance program. For example, the property and casualty agent will be heavily involved in the gathering of existing policies, analysis and selection of coverages and yearly policy review and renewal.
Throughout the year, our risk management consultants will conduct presentations to our advisors and their clients across the country. If you believe it would be beneficial to arrange a conference call or an in-person meeting with an Oxford team member, please reach out to us for more information.
Client Referral Advisory Mix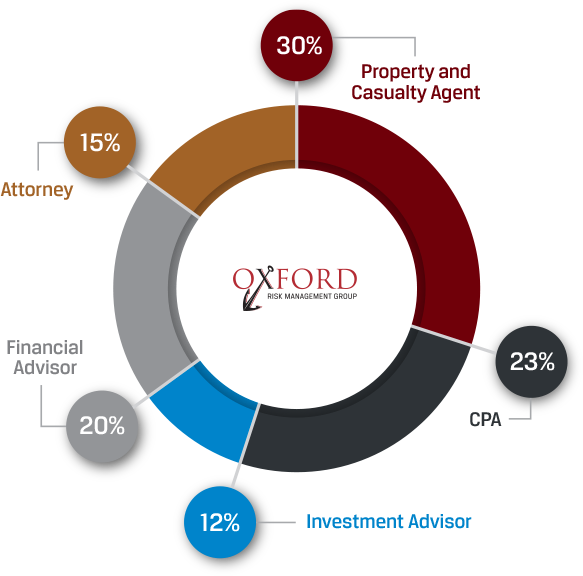 Independent advisors recognize the importance of experience and trust Oxford to deliver a conservative and compliant structure, engineered to deliver predictable results. With the largest group of enterprise risk clientele from coast-to-coast, we have the critical mass necessary to remain at the pinnacle of our industry. Oxford is proud of our world-class captive advisory team-independent industry professionals with hundreds of years combined in captive insurance experience, recognized as the very best in their respective fields. Yet another reason why more businesses trust Oxford for their enterprise risk management solutions than anyone else.
Oxford – the nation's leading provider of alternative risk management solutions.