The Oxford Risk Management Group team of professionals is dedicated to providing our clients with the highest caliber of service possible in the industry.  We maintain detailed records of each and every document utilized in the formation and management of your captive insurance company.  In the event you should ever need copies of anything to do with your captive, we have it all organized and up to date.
Having confidence in the professional administration of their captive is one of the reasons our clients continue to renew their coverage year after year.  This advantage allows our clients to easily deal with changes in professional advisory firms, regulatory audits and IRS audits should they occur.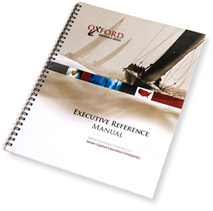 Not only are we able to generate detailed reports, but the Oxford Risk Management team also provides a customized Executive Reference Manual intended to serve as a reference tool and guide to operating your captive insurance company.  We recognize that our clients are successful business owners and entrepreneurs, with responsibilities that command the bulk of their time.  Our Executive Reference Manual provides a quick, clear overview of your captive insurance company, with detailed sections about risk management and operational procedures, and a summary of day-to-day responsibilities.